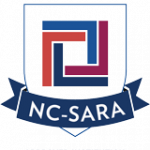 Eastern West Virginia Community and Technical College has been approved to participate in the National Council for State Authorization Reciprocity Agreements. Visit NC-SARA's website to learn more.
Distance Education is a way of delivering instruction that allows the student and instructor to be separated by physical distance using technology to bridge the physical gap. This delivery system allows the College to provide you with many more course selections than if all classes were offered in the traditional setting. Distance Education offerings often provide flexibility and convenience that you may find will fill your educational needs. However, before you enroll in any distance education course, you need to understand what kind of delivery is involved and what will be expected of you as a student.
Below is some information designed to get you started in learning about Distance Education. Be sure to check out the self-evaluation in this section and don't hesitate to ask for help.
Definitions and Descriptions
You will find that academic program distance education courses at Eastern are not self-paced courses. You will be expected to meet class/assignments due dates. Your instructor determines the design of the course (for example, whether you have to be logged on at a certain time for a live chat). The semester course schedule will indicate whether regular live virtual sessions are part of the course design (making the course a "synchronous" or video distance learning class), so you can choose courses that will best fit your schedule.
You must have daily access to the college website through your own computer, a computer lab, or other outside computer resources (libraries, your workplace, etc.).
You must have the required software for each course you are taking (some software must be downloaded from the Internet). Microsoft Office 365 applications (such as Word, Excel, Access, Publisher) are provided to Eastern students at no additional cost.
You are responsible for checking the course on Blackboard and checking your college email several times each week for updates.
You are required to complete a Blackboard orientation session for entry into an online class.
In many instances, the instructors may make copyrighted materials available to students online under fair use provisions. It is important for students to remember that materials are provided for educational purposes only, and that it is against the law for students to photocopy and distribute copyrighted materials. More information about the college's Copyright, Intellectual Property and Fair Use policies can be found in the Student Handbook, or through Eastern's Academic Policies.
Distance education, especially web-based courses, require students to have a high degree of motivation and self discipline due to the lack of daily contact with the instructor.
Students must have access to computer hardware and software, as well as access to high-speed Internet, to take distance learning classes. It is not advised to use an Android or iOS tablet or smart phone, or a Google Chromebook, as your primary computing device because Blackboard is not optimized for these devices.
Some recommendations:
Stuck? Help Is Available.
Videos are available to guide students through the process of accessing Email, Office 365, and Blackboard. Visit the Technology Support page to learn more.
Eastern's Blackboard Help Desk assists students who are having technical difficulties with Blackboard, the website-based platform for courses.
Contact:
Include the following information in your email: complete description of the problem (include screenshots if possible), your name, course and section number, and instructor's name). If leaving a voice mail, please included the aforementioned information when leaving your detailed message.
WVNET, Eastern's Blackboard provider, also offers a 24/7/365 help desk for students to supplement Eastern's staff. Students can use the WVNET Help Desk tab (located near the top right corner of the screen) in Blackboard, or they can call the WVNET help desk at 304-293-5192 x 248 for Blackboard assistance.
Students should also be aware Blackboard will be offline for a few hours (from 12 midnight to 4 a.m.) every Monday morning for maintenance. It will not be available during those hours.
Also, for students having difficulty accessing their college email (firstnamelastname@student.easternwv.edu) , contact the Eastern help desk staff  listed above.
Frequently Asked Questions