Ready to graduate? Looking at the next step? Eastern's Career Services office can help.
Eastern's Career Center is open, both virtually and in-person, to help you soar and reach your career goals.  Our career counselor will help you research your interests, find your passion, and use your skills to land your dream job.
Upcoming Mini-Course Schedule
Free courses to help you succeed professionally!
Thursday, February 23, 2023: Setting Up Your Own Business (LLC)
Co-Presented by: Lindsey Guinn, Director of Institutional Effectiveness, and Seyed Mirkhani, Division Chair for Business, Computer, and Information Technology.
(Virtual 5:30-6:30 p.m.)
Tuesday, March 7, 2023: Personal Finance 101
Hosted by Summit Community Bank and Co-presented by:
Becky Yokum, Vice President/Community Bank Manager, and Sydney Nazelrodt, Community Bank Manager.
(Room 111, 12-1 p.m.)
Tuesday, March 21, 2023: Benefits of Building a LinkedIn Profile
With a free professional profile picture.
(Campus-Room 111, 12-1 p.m. Mini-Course/1-2 p.m. Photo Sessions or by appointment)
Tuesday, April 25, 2023: Career Carnival
A fun afternoon of career exploration through carnival games and activities.
(Campus and Quad Areas; 12-2 p.m.)
Additional Event:
Tuesday, April 11, 2023: Job Fair
Workforce Education, WorkForce West Virginia, and Region VII Workforce Development Board.
(Campus; 10 a.m.-3 p.m.)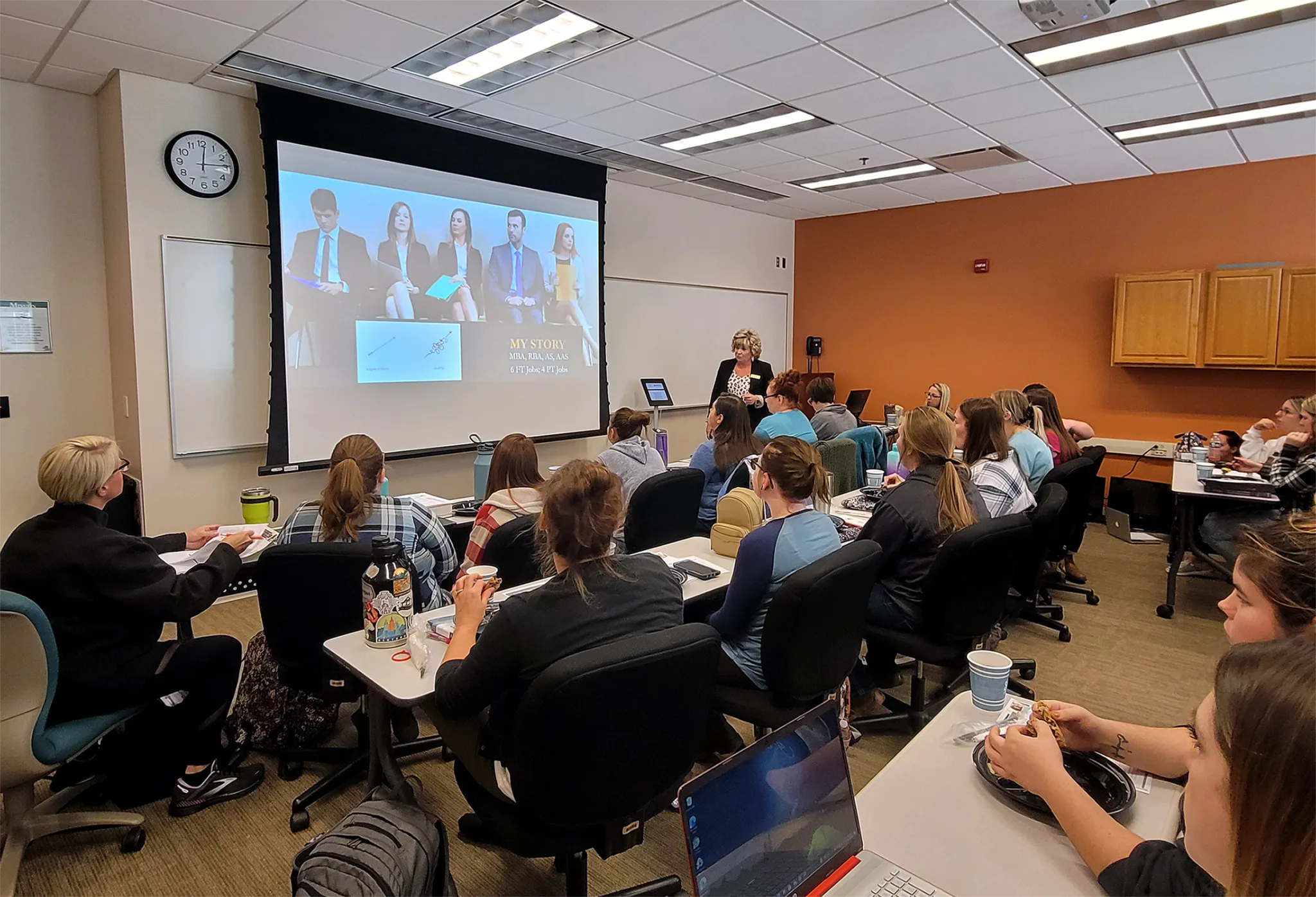 Free e-Resources for Planning and Goal-Setting Guidance
(All links below are external links that will open in a new tab.)
Pathways to the Future
West Virginia Division of Rehabilitation Services is proud to sponsor this site that features a collection of resources, tools, and people to help students with disabilities, through the journey from youth to adulthood. You're one click away from information on jobs and careers, education/training after high school, independent living skills, and partners and programs to help you along the way.
---
College Foundation of West Virginia (CFWV)
West Virginia's designated career planning and information system.  Explore careers, plan your education, search for financial aid, polish your interview skills, and get help finding jobs in your area.
College Foundation of West Virginia (CFWV)
---
Occupational Outlook Handbook
What do you want to do for a living?  Detailed occupational profiles provide information about typical education, pay, what workers do, and the outlook for the occupation in the future, and more.
---
O*Net
The O*Net Program is the nation's primary source of occupational information.  Find occupational-specific descriptors on almost 1,000 occupations covering the entire U.S. economy.
---
My Next Move
My Next Move is an interactive site that allows you to search careers with key words, browse careers by industry, and take a quick interest profiler to help you discover your interests and how they relate to the world of work.
---
CareerOneStop
This career, training, and job search website is sponsored by the U.S. Department of Labor.  The best career choices are ones that match your values.  Get started on this site with the Work Values Matcher.
---
Salary Calculator
The all-important question, "What am I going to get paid?"  Find the average salary for your dream job.
---
USAJOBS:
USAJOBS connects job seekers with federal employment opportunities across the United States and around the world. As the federal government's official employment site, USAJOBS helps the right people find the right jobs.
---
Workforce West Virginia:
WorkForce West Virginia is a one-stop center for workforce resources, including job opportunities, unemployment compensation, training, tax incentives, and labor market information. All of our services are available at 13 comprehensive career centers throughout the state. In addition, WorkForce West Virginia has the largest online database of job seekers and job openings in the state.
---