Established in September 2011, the Eastern Arts Society celebrates, promotes, and fosters creativity through its publication (Eagle's Nest), sponsored events, and activities coordinated by the Arts Society, like the Art Club.
All students are welcome and encouraged to join the Arts Society.
Juried Art Show - Accepting Art Now!
Submissions are closed. Thank you to everyone who entered!
Juried by Master Artist Robert Singleton of Baker, WV.
Eastern is holding a community juried art show that will run September 5-26 in the Charles D. Terrell Art Gallery, located at the main campus in Moorefield.
Address: 316 Eastern Drive, Moorefield, WV 26836
Reception Date: Tuesday, September 5 from 4 p.m. – 6 p.m.
There will be light hors d'oeuvres for attendees, and the winners of the juried awards will be announced.
Limited to 40 submissions; up to two artworks per artist.
First come, first serve!
OPEN TO ALL MEDIUMS:
Ceramics, Digital Illustration, Graphite Drawing, Graphic Design, Painting, Photography, Sculpture, etc
All work must be gallery ready and hangable/displayable upon drop-off. Sculptural work cannot exceed 25 lbs.
Deadline To Submit: Thursday, August 24 at noon.
Art Pick-up Date: September 26 – October 3
Awards:
1st Place – $250
2nd Place – $175
3rd Place – $125
Honorable Mention – $50
Student Prize – $50 and $50 Eastern Gift Card!
For any questions and to schedule art drop-offs or pick-ups, contact:
Trent Montgomery, Marketing/Graphic Designer at trent.montgomery@easternwv.edu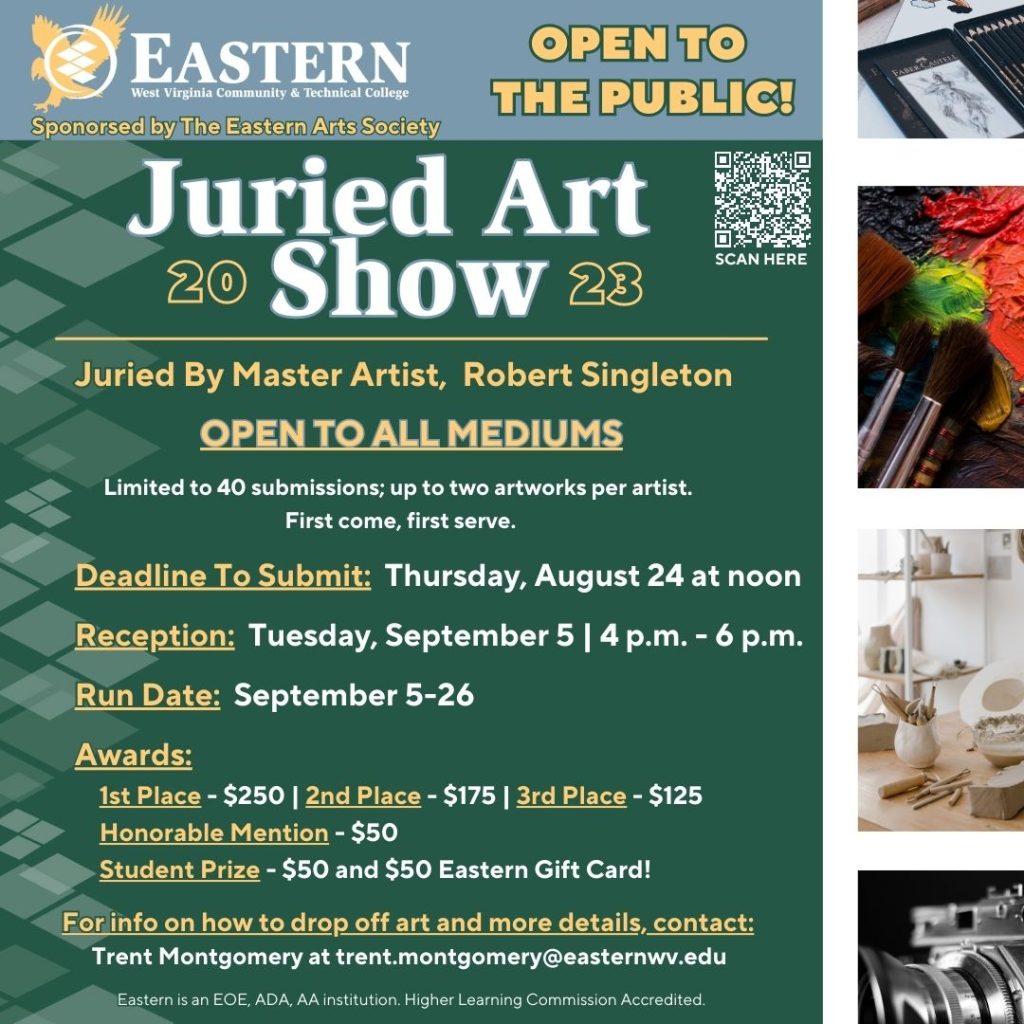 Eagle's Nest is Closed For Submissions! (Current Edition is published 5/16/23)
Eastern Arts Society is looking for works of art and writing to publish in the literary and art magazine, Eagle's Nest. This is open to students, faculty/staff, and the community! JPGs and word docs are the only acceptable file types for submission.
Submit to trent.montgomery@easternwv.edu with the subject line 'Eagle's Nest Submission'. The submission deadline is April 28, and the publication date is still to be determined!
There will be limited print editions of the magazine, and a digital edition available on this page. Social media posts will be made of individual submissions unless the artist/author states to not have their work displayed on socials.
Submissions will be open again in a few months!
The Arts Society received many submissions for the first volume and believed that the quality of all submissions merited publication. However, due to limited space in that first volume, the Arts Society could not publish all of the artistic work submitted. To recognize the creative accomplishments of all who submitted, the editorial board decided to include this additional student artwork in a web-only collection called "Aerie Branches".
To learn more about the Eastern Arts Society and to join, contact: