#CelebrateFirstGen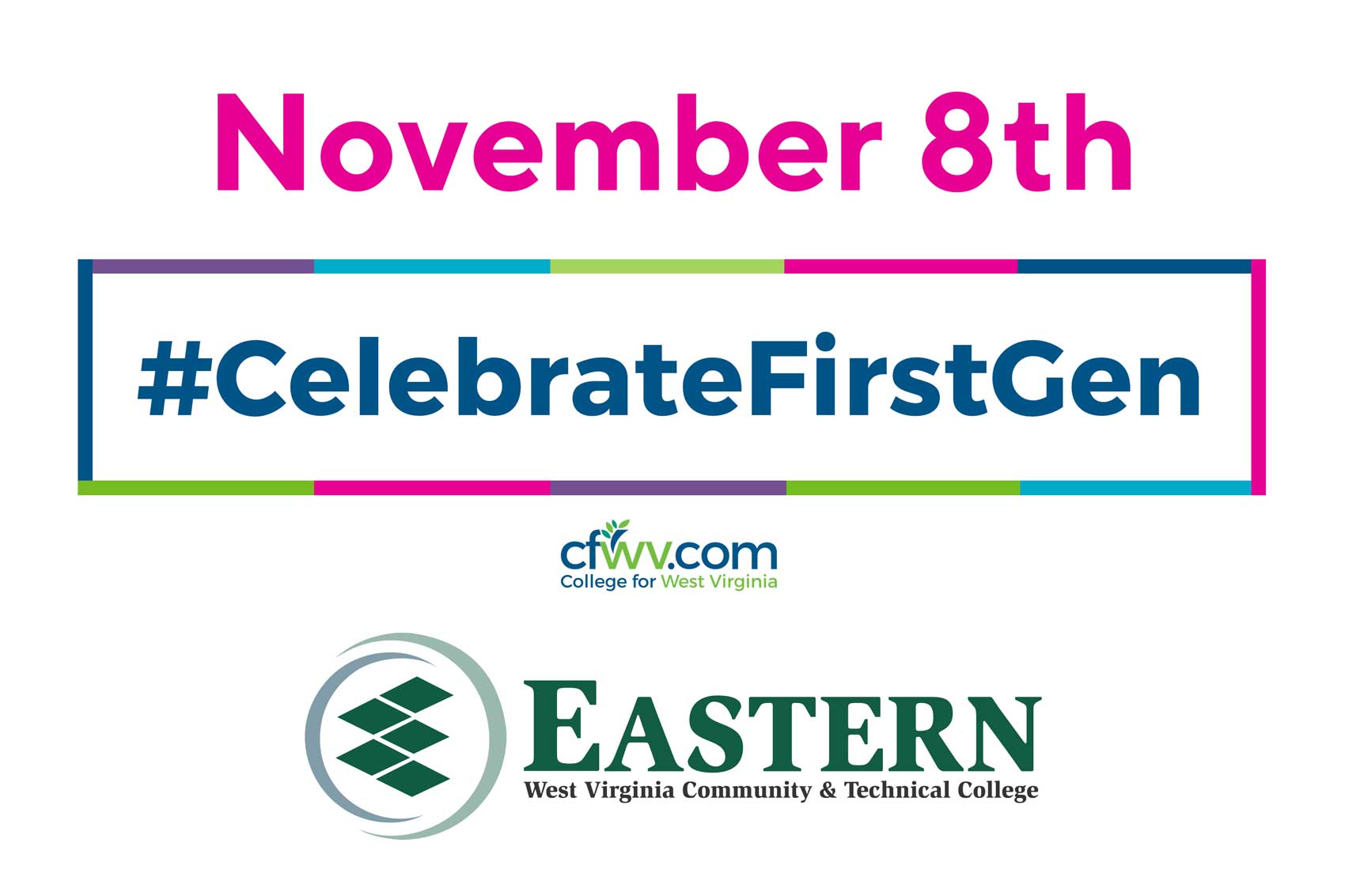 In 2017, the Council for Opportunity in Education and the National Association of Student Personnel Administrators' Center for First-Generation Student Success launched the inaugural First-Generation College Celebration on Nov. 8, the anniversary of the signing of the Higher Education Act of 1965. This year, Eastern West Virginia Community and Technical College is joining with College for West Virginia (CFWV) to celebrate the successes and contributions of first-generation college graduates and students in West Virginia.
Eastern is defining first-generation graduates – for the Nov. 8 First-Generation Celebration – to be those who are the first in their immediate families to have earned at least an associate (2-year) degree. The same follows for first-generation students to be the first in their immediate families to be actively working toward at least an associate degree.
We are providing a sign with the #CelebrateFirstGen logo where messages can be typed in and printed out. The space at the bottom is for including your name after your message. You are welcome to post these signs in your classrooms, offices, community buildings, or other places where the message might have a positive influence on others. We also ask that you email us a photo of your sign, or better yet a photo of you holding your sign. Be sure to include your name at the end of your message. Photos of signs can be emailed to marketing@easternwv.edu with the email subject line "Celebrate First Gen."
Eastern will use the images of the signs to create a community #CelebrateFirstGen album on Eastern's Facebook page, and we will post community members' signs and/or images in our student lounge and around our campus (if you only want your sign to be posted physically on campus and not included in the Facebook album, just let us know that in the email when you send it).
On Nov. 8, we will share the #CelebrateFirstGen community album on Eastern's Facebook page to celebrate our community of first-generation graduates and students.
Join us in celebrating our collective achievements to encourage others to take this important step and start working toward a college degree. If you are a first-generation college graduate or student, tell us why you are proud to #CelebrateFirstGen.