Moorefield, WV – Tanner Bennett is a 2019 Hampshire High School graduate and current freshman attending Eastern West Virginia Community and Technical College in Moorefield, West Virginia. The Augusta resident is majoring in Business Management. Upon graduation, he plans to open a small engine machine repair shop.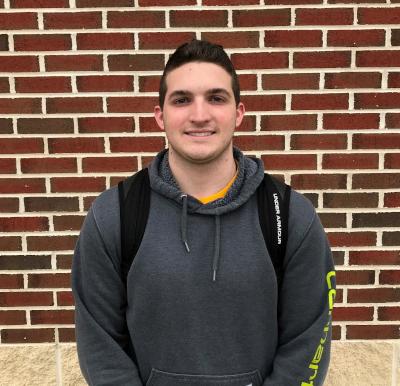 With his first semester of college under his belt, Tanner says he is very pleased with his decision to attend Eastern. "I love Eastern!" he said. "I have learned so much. This has been such a different learning experience from high school", Tanner added.
Tanner's community college tuition is paid for by the West Virginia Invests Grant Program. West Virginia Invests is a state-funded grant program that covers the full cost of basic tuition for select certificate and associate degree programs at West Virginia's community colleges. Priority is given to programs in high-demand fields, such as information technology, business management, and healthcare, as determined by the West Virginia Department of Commerce. This is a last-dollar-in program, meaning that it will pay for the cost of tuition that is not already covered by other state or federal grants or scholarships.
The program does require a drug screen, two hours of community service, and for students to maintain a cumulative 2.0-grade point average each semester. Participants are also required to reside in West Virginia for two years after they complete their degree or certificate program, or the grant funds revert into a loan that will be repaid.
The West Virginia Invest Grant Program allowed Tanner to continue his education after high school. Without the grant funds, Tanner said, "I would have had to take out a loan or put college on hold until I saved enough money to cover all of the costs."
When Tanner isn't working or studying, he likes to work on developing his carpentry skills or work on fixing small machines. He is also always up for a little football.
Eastern West Virginia Community and Technical College offers 10 Certificate and 12 Associate Degrees covered by the West Virginia Invests Program.
For more information about the West Virginia Invest Program, visit www.wvinvests.org or contact Charles "Chip" Bolyard at Eastern West Virginia Community and Technical College – 304-434-8000 / charles.bolyard@easternwv.edu.
For more information about the degree and certificate learning opportunities at Eastern West Virginia Community and Technical College, visit www.easternwv.edu or email askeastern@easternwv.edu. Registration for the Summer 2020 semester begins April 1st, and classes start on May 18th.