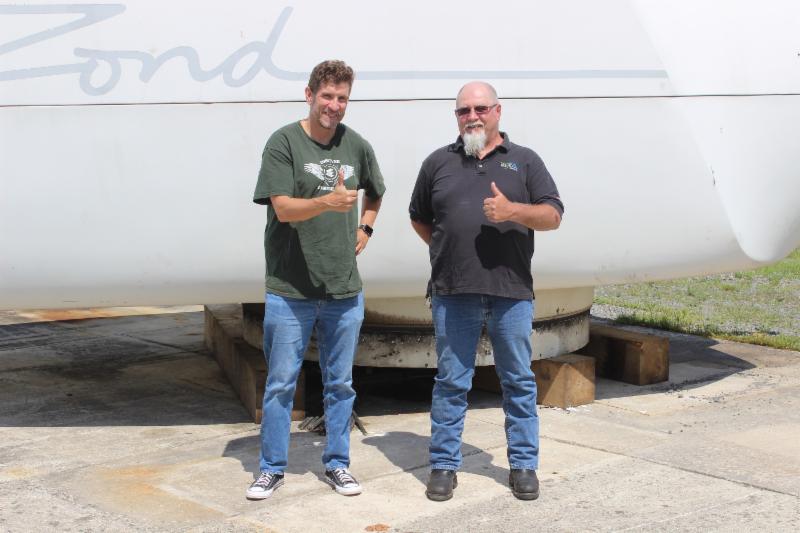 Left to right: Curtis Hakala, Department Chair and Nelson Booth, Associate Wind Site Manager for the Mountaineer Wind Energy Center pose in front of the nacelle.

Eastern West Virginia Community and Technical College announces it is the recipient of a wind turbine nacelle from NextEra Energy Resources, LLC. Weighing approximately 63,000 pounds, the nacelle was delivered on July 22 and houses all the generating components of a wind turbine. The nacelle will be incorporated into the Eastern's Wind Energy Turbine Technology curriculum and provide students with the hands-on training they need to gain experience and be successful in their future careers.
"NextEra is a leader in clean energy and supports Eastern's Wind Energy Turbine Technology program in a number of ways," said Eric L. Putze, Advanced Technologies and Wind Technology faculty. "Many of our students have obtained internships or employment at NextEra and this donation will allow us to provide students with additional experience on campus that they would have previously needed internships to obtain. We are grateful for our partnership with NextEra and are proud to be the recipient of their generous donation."
Eastern offers an Associate in Applied Science, Certificate in Applied Science and Skill Set program in Wind Energy Turbine Technology to help meet the growing demand for qualified technicians. The program complies with American Wind Energy Association certification standards and students learn the skills necessary to service and troubleshoot modern wind power generation equipment anywhere in the world while acquiring the background and knowledge to advance their careers in the power generation field. Eastern's curriculum provides instruction and practical application of a variety of technical concepts and practices, including those in electrical, pneumatic, hydraulic, mechanical systems, computer control, data acquisition, periodic and predictive maintenance program usages.
"We are proud to continue our partnership with Eastern West Virginia Community and Technical College and contribute to their training programs for wind turbine technicians," said Shanelle Wilson, NextEra Energy Resources project manager. "Wind technician is one of the fastest growing jobs in the United States, so the direct experience these students can receive from working with the equipment will help them as they progress in their journey to becoming a wind technician."
Today, American wind power supports more than 100,000 jobs, and the field is expected to grow exponentially, as the U.S. Department of Energy outlined a strategy that will produce 20 percent of US power from wind energy alone by 2030.
NextEra is currently developing the Mt. Storm Wind project in Grant and Tucker counties. The project is expected to create an economic boost for the counties, including hundreds of construction jobs, as well as good-paying, full-time operations jobs.

About NextEra Energy Resources, LLC
NextEra Energy Resources, LLC (together with its affiliated entities, "NextEra Energy Resources"), is a clean energy leader and is one of the largest wholesale generators of electric power in the U.S., with approximately 21,000 megawatts of net generating capacity, primarily in 36 states and Canada as of year-end 2018. NextEra Energy Resources, together with its affiliated entities, is the world's largest generator of renewable energy from the wind and sun and a world leader in battery storage. The business operates clean, emissions-free nuclear power generation facilities in New Hampshire, Iowa and Wisconsin as part of the NextEra Energy nuclear fleet, which is one of the largest in the United States. NextEra Energy Resources, LLC is a subsidiary of Juno Beach, Florida-based NextEra Energy, Inc. (NYSE: NEE). For more information, visit www.NextEraEnergyResources.com.