Eastern West Virginia Community and Technical College is making solar power a priority. Sustainable energy solutions are important to Eastern, as the college has a great wind energy program. Now, they are delving into various solar projects.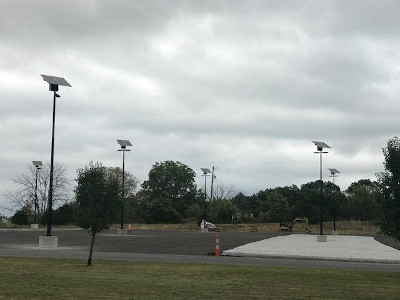 While the college has had a small ground mounted solar panel display, solar powered lights were recently installed in the new parking lot. In addition, a solar powered electric car charging station is currently under construction.
While solar panels have become more affordable for residents and business owners, Eastern developed a one day program called Solar on the Farm. This session was held on Dec. 7th and was an informational event for homeowners, business owners, and agricultural producers. Due to the net metering program in West Virginia, many local consumers that have solar panel systems can connect that energy source to the grid. This program enables most residents with a solar panel system to gain energy credit on their electric bill for the energy produced. Therefore, for example, when the system produces more energy than it is using (likely during the summer), the consumer can use that energy credit when the system is producing less energy (such as during the winter).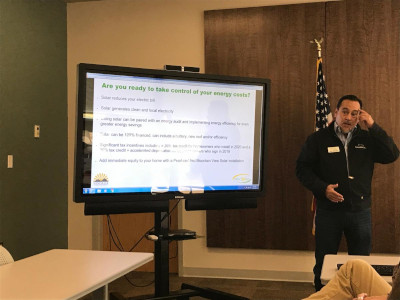 At the Solar on the Farm program, solar energy representative, Mike McKechnie, with Mountain View Solar, LLC, explained this process and also indicated significant federal tax incentives and grant opportunities. One grant opportunity used for alternative energy application is the USDA Rural Energy for America Program (REAP), which is applicable for business owners, including farmers.
Jesse Gandee with the USDA Rural Development Program presented at the session and discussed the REAP in detail, indicating that business owners may be able to get up to 25% of their solar system paid for through this grant. Danny Chiotos with Vandalia Energy Services then provided information on his consulting services. Chiotos works closely with Mountain View Solar, helping clients with the REAP grant writing process and walking consumers through the initial process of solar installation logistics.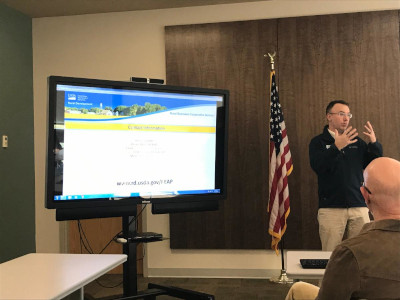 A local poultry producer, Ward Malcolm, then discussed his solar panel system, including
energy savings and the REAP grant benefits. Malcolm explained he was awarded the REAP grant over five years ago and it helped him tremendously in making the project financially feasible.
In closing, McKechnie mentioned his company is in serious need of solar technicians as solar energy continues to grow. Seeing this workforce need, Eastern administrators plan to continue collaborating with industry partners about the possibility of a solar program.
Consumers interested in getting a free quote on a solar panel system can contact Danny Chiotos directly at (304) 886-3389 or at vandaliaenergyservices.com.
To learn more about Eastern's Agriculture Innovation program, contact Dr. Sarah Cross, director of Agriculture Innovation at sarah.cross@easternwv.edu or (304) 434-8000, ext. 9233.