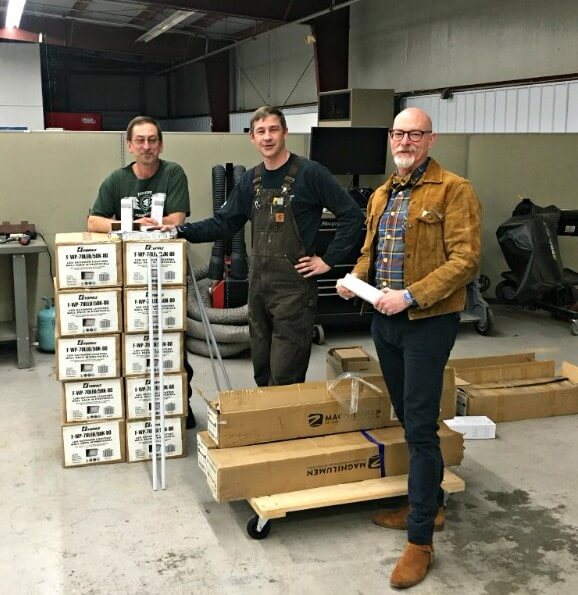 CHARLESTON, WV (Feb. 27, 2018) – Eastern West Virginia Community and Technical College in Moorefield expects to reduce utility consumption by 40% thanks to a donation of LED bulbs from ZLED Lighting, a member of Energy Efficient West Virginia.
Eastern West Virginia Community and Technical College (EWVCTC) recently installed the quad-pin LED bulbs designed specifically for a type of fixture commonly found in schools, hotels, and office buildings. "By replacing the 32-watt inefficient, mercury-filled fluorescent bulb with a more attractive 14-watt LED, Eastern should see its electricity by almost half," said Xavier Walter, Outreach and Development Director of Energy Efficient West Virginia (EEWV). Walter helped facilitate the donation from ZLED Lighting, based in Mount Laurel, NJ.
"Our members support our mission and work with us to find ways to make a difference. We are very thankful to ZLED for giving us this generous gift that we can put to use immediately to save tax dollars and help West Virginia," Walter continued.
This upgrade equates to a savings of $7 per bulb. Each bulb's average expected lifespan is over 10 years. EWVCTC will save $1,400 annually with the donation of the 200 bulbs.
"We want Eastern to be a model of efficiency and sustainability in Appalachia," says Dr. Chuck Terrell, Eastern's president. "We are changing every bulb in our facilities to LED because it is the least expensive measure with the fastest return on investment. Our plans include solar parking canopies and enhanced solar-powered street lighting around our campus."
Projects such as the upgrade at EWVCTC fulfills EEWV's mission to promote energy efficiency among residential, commercial, and industrial customers. "Eastern is taking a step that every government and commercial building owner across the state should be taking," said Executive Director Emmett Pepper. "We hope that other community colleges and public agencies follow the lead of Eastern to save money while creating jobs through energy-efficient upgrades to their buildings."
Eastern WV Community and Technical College prides itself on being a leader in sustainability in its community. With the primary goal of helping reinforce the job market, Eastern offers an array of curricula.
Along with the donated LED lights, EWVCTC received a Higher Education Policy Commission grant for energy efficiency to replace lighting at Technical Training Center in Petersburg.  The training center houses one of the few wind turbine maintenance and repair training programs on the East Coast. Additional hands-on programs include automotive repair, welding, and advanced electronics and engineering classes.
The replacement of over 200 8-foot fluorescent tube fixtures with new Magnilumen retrofit kits reduced energy consumption by more than $4,800 per year and transformed the look of the building. The enhanced lighting enables students to see their work better. The eliminated maintenance costs – reduced need for the constant bulb and ballast changes – puts more money back into the budget for students and staff.
Many in the lighting industry view the Magnilumen tube light retrofit kit as a game-changer. Replacing old, mercury-filled, high-maintenance tube lights with Magnilumen is fast and easy. The quality exceeds that of normal LED tubes since the driver is separate from the engine of the light. Click here for video explainer.
Support from members like ZLED Lighting enables EEWV to help schools and others in the Mountain State. ZLED's robust product line of energy-efficient lighting options are available for businesses throughout West Virginia. For more information, contact ZLED at (800) 679-9243 or zled-lighting.com.
Businesses looking to lower utility costs may be eligible for free energy assessments from EEWV by becoming a member. Many businesses in West Virginia qualify for significant rebates from utility companies and assistance from the USDA's Rural Energy for America Program. Businesses interested in saving money on energy bills should contact EEWV's Xavier Walter at xavier@eewv.org or 609-504-2119.