Moorefield W.Va. – Eastern West Virginia Community and Technical College (Eastern) kicked off the first annual Walk 100 Miles event by tie-dying shirts on May 26. For the first half of the event on May 26th, the attendees showed up at 11 a.m. to tie-dye shirts with an array of colors to choose from. Light refreshments were provided to everyone once they were finished. Then on June 1, everyone was able to come back wearing their tie-dyed shirt to walk the first mile, where Ed Cole, Student Services Specialist, led everyone around the parking lot at Eastern. This counted as their first mile to write down.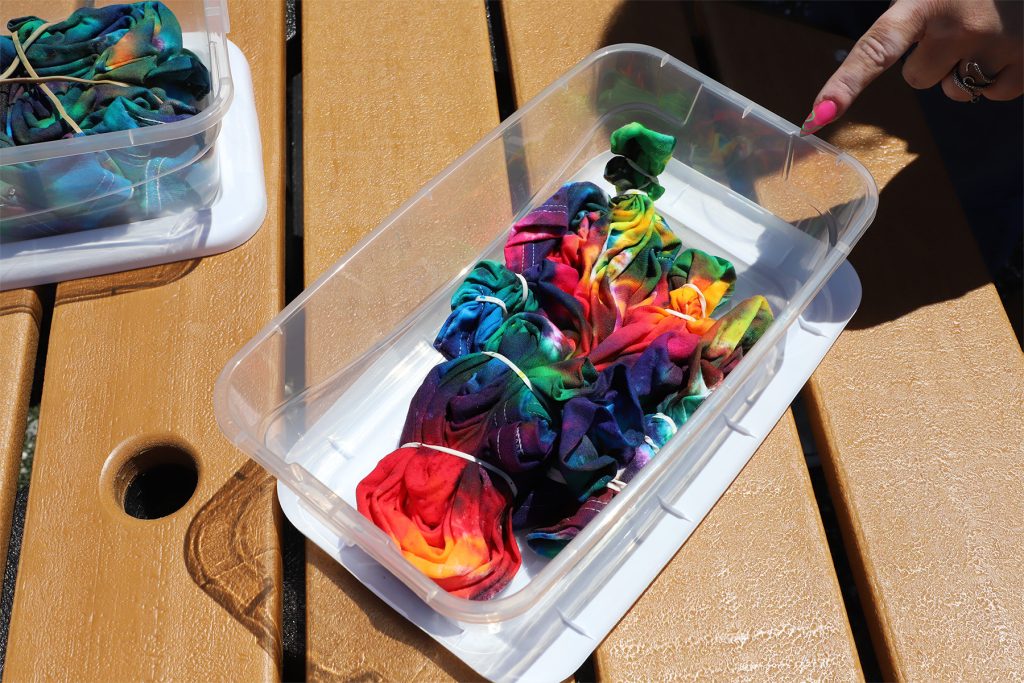 "This summer, Eastern is getting out and walking with our Walk 100 Miles event. We currently have seventy-six participants. Moreover, the community has been buzzing with positive feedback from individuals who were unable to participate this year but are eager to join us next year. Engaging in this activity allows you to enjoy the advantages of both physical exercise and emotional well-being. Walking regularly not only provides the physical benefits of exercise but also contributes to alleviating symptoms associated with chronic mental health conditions such as anxiety and depression," said Ed Cole, Student Services Specialist, "However, it's crucial to acknowledge that while walking can be beneficial, it should not replace professional mental health treatment. Remember to consult with a licensed mental health professional for comprehensive support."
This event was open to the community and participants were able to register in advance to secure a shirt for tie-dying. Walk 100 Miles was created in tandem with May being Mental Health Awareness Month, and to support others in building healthy lifestyle habits. In total, there are seventy-six participants, who will, over the course of ten weeks, walk a total of one hundred miles. They will keep track of how much they have walked, and by the end of the ten weeks, be able to turn their time in to be entered into a raffle to win prizes like a Fitbit.
This event was made possible by Eastern's Mental Health Grant, received from WV Higher Education Policy Commission, WV Community & Technical College System and the Bureau for Behavioral Health.

About Eastern
Eastern West Virginia Community and Technical College, based in Moorefield, serves six rural counties in West Virginia's Potomac Highlands by offering affordable academic programs, including five online degree programs, and a variety of flexible workforce trainings. Eastern is accredited by the Higher Learning Commission. For more information, visit https://easternwv.edu or call 304-434-8000.