2019 Moorefield High School Graduate Ashlynn Dolby is now attending Eastern West Virginia Community and Technical College in Moorefield, West Virginia. Ashlynn is in the Applied Health Care program with plans to apply to the Eastern Nursing Program. Her career goal is to use her nursing skills in an emergency room or pediatric setting.

Ashlynn says that attending college can be stressful at times, but she likes it much better than high school. She lives 10 minutes away and likes the quick commute. Ashlynn said, "I like the small class sizes, too. I feel very comfortable asking questions during class."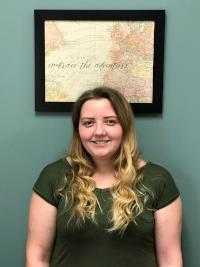 "Plus, Eastern is so much more affordable than the other local colleges," she added.

Thus far, her favorite class has been Human Anatomy and Physiology because she finds learning how different body parts function interesting. In addition to college, Ashlynn works at Sheetz and enjoys watching movies and going out to dinner with family and friends. She also finds quality time to spend with Frankie, her Walker Beagle Mix Hound.

Ashlynn's community college tuition is paid for by the West Virginia Invests Grant Program. West Virginia Invests is a state-funded grant program that covers the full cost of basic tuition for select certificate and associate degree programs at West Virginia's community colleges. Priority is given to programs in high-demand fields, such as information technology, business management, and healthcare, as determined by the West Virginia Department of Commerce. This is a last-dollar-in program, meaning that it will pay for any amount up to the total cost of tuition and some fees that are not already covered by other state or federal grants or scholarships.

The program does require a drug screen, two hours of community service, and for students to maintain a cumulative 2.0-grade point average each semester. Participants are also required to reside in West Virginia for two years after they complete their degree or certificate program, or the grant funds revert into a loan that must be repaid.

The West Virginia Invest Grant Program allowed Ashlynn to continue her education after high school. When asked what would happen without the WV Invest Funds Ashlynn said, "It would be difficult. I could do it, but I would have to take out loans."

Eastern West Virginia Community and Technical College offers 10 Certificate and 12 Associate Degrees covered by the West Virginia Invests Program. Ashlynn said that Eastern was the right choice for her.

For more information about the West Virginia Invest Program, visit www.wvinvests.org or contact Charles "Chip" Bolyard at Eastern West Virginia Community and Technical College – 304-434-8000 / charles.bolyard@easternwv.edu.

For more information about the degree and certificate learning opportunities at Eastern West Virginia Community and Technical College, visit www.easternwv.edu. Registration for the Summer 2020 semester begins April 1st. Summer classes start on May 18th.