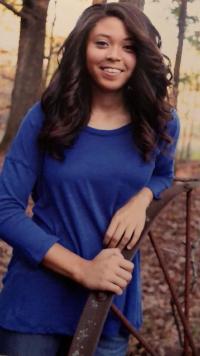 Tiara Redman is a sophomore attending Eastern West Virginia Community and Technical College in Moorefield, West Virginia. The Petersburg resident is majoring in Business Management and Computer Applications. Her goal, after graduation, is to open and operate her own bakery.
 
Tiara is also a West Virginia Invests Grant Program participant. West Virginia Invests is a state-funded grant program that covers the full cost of basic tuition and some fees for select certificate and associate degree programs at a West Virginia public two- or four-year institution. Priority is given to programs in high-demand fields, such as information technology or healthcare, as determined by the West Virginia Department of Commerce. This is a last-dollar-in program, meaning that it will pay for any amount up to the total cost of tuition and fees that are not already covered by other state or federal grants or scholarships.
 
The program does require a drug screen, two hours of community service, and for students to maintain a cumulative 2.0-grade point average each semester. Participants are also required to reside in West Virginia for two years after they complete their degree or certificate program, or the grant funds revert into a loan that must be repaid.
 
Without the grant money Tiara said, "I would still attend college, but I would have to take out a loan or ask my parents to pay the bill."  "The West Virginia Invest Grant lets me finish my education without having a big debt to pay back," she continued.
 
Eastern West Virginia Community and Technical College offers 10 Certificate and 12 Associate Degrees covered by the West Virginia Invests Program. Tiara said that Eastern was the right choice for her. "I like the small class size and the individual attention I have received from my instructors," Tiara said of the institution. 
 
Outside of class, Tiara enjoys playing her guitar and piano, playing soccer, and baking, of course.
 
For more information about the West Virginia Invest Program, visit www.wvinvests.org or contact Charles "Chip" Bolyard at Eastern West Virginia Community and Technical College – 304-434-8000 / charles.bolyard@easternwv.edu. 
 
For more information about the degree and certificate learning opportunities at Eastern West Virginia Community and Technical College, visit www.easternwv.edu.