Highlands Creative Economy
About the Highlands Creative Economy
The development of a "creative economy" means driving job creation by capitalizing on a region's cultural, natural, and human assets. A Regional Tourism/Arts Initiative was identified as an essential component in Potomac Highlands' economic development. Eastern expanded this to a larger vision of developing a "creative economy."
The Highlands Creative Economy Initiative capitalizes on the region's cultural, heritage, and natural assets by encouraging collaboration among businesses and others working in the creative economy. While Eastern has a service area of six counties, the efforts of the creative economy were expanded to encompass eight counties to conform with and meet the definition of the "Potomac Highlands" as defined by the WV Department of Tourism. As a result, the counties included in the scope of work include Hardy, Hampshire, Mineral, Grant, Pendleton, Tucker, Pocahontas and Randolph.
AFNHA works with willing partners in 16 West Virginia counties and 2 counties in western Maryland to explore and enhance the relationship between the forested mountains and the people who live there. With the overall theme of forest heritage, AFNHA focuses on conservation, forestry, cultural heritage, asset-based tourism and community development.
AFNHA's counties in the highlands of West Virginia are Preston, Mineral, Hampshire, Morgan, Barbour, Tucker, Hardy, Grant, Pendleton, Upshur, Randolph, Braxton, Webster, Pocahontas, Nicholas, and Greenbrier. The counties in Western Maryland are Garrett and Allegany.
The Highlands Creative Economy effort is in partnership with the Appalachian Forest National Heritage Area (AFHNA). Click below to learn more about AFHNA.
Your Travel Guide to Local Farm Fresh Products
The agritourism guide includes 106 local food producers across Grant, Pendleton, Tucker, Mineral, Hampshire and Hardy Counties. These agricultural operations offer a variety of experiences ranging from farm stays or bed and breakfast on the farm, to purchasing local foods, navigating corn mazes and seasonal on-farm activities, picking fruit and vegetables, feeding animals, and recreational activities on the farm.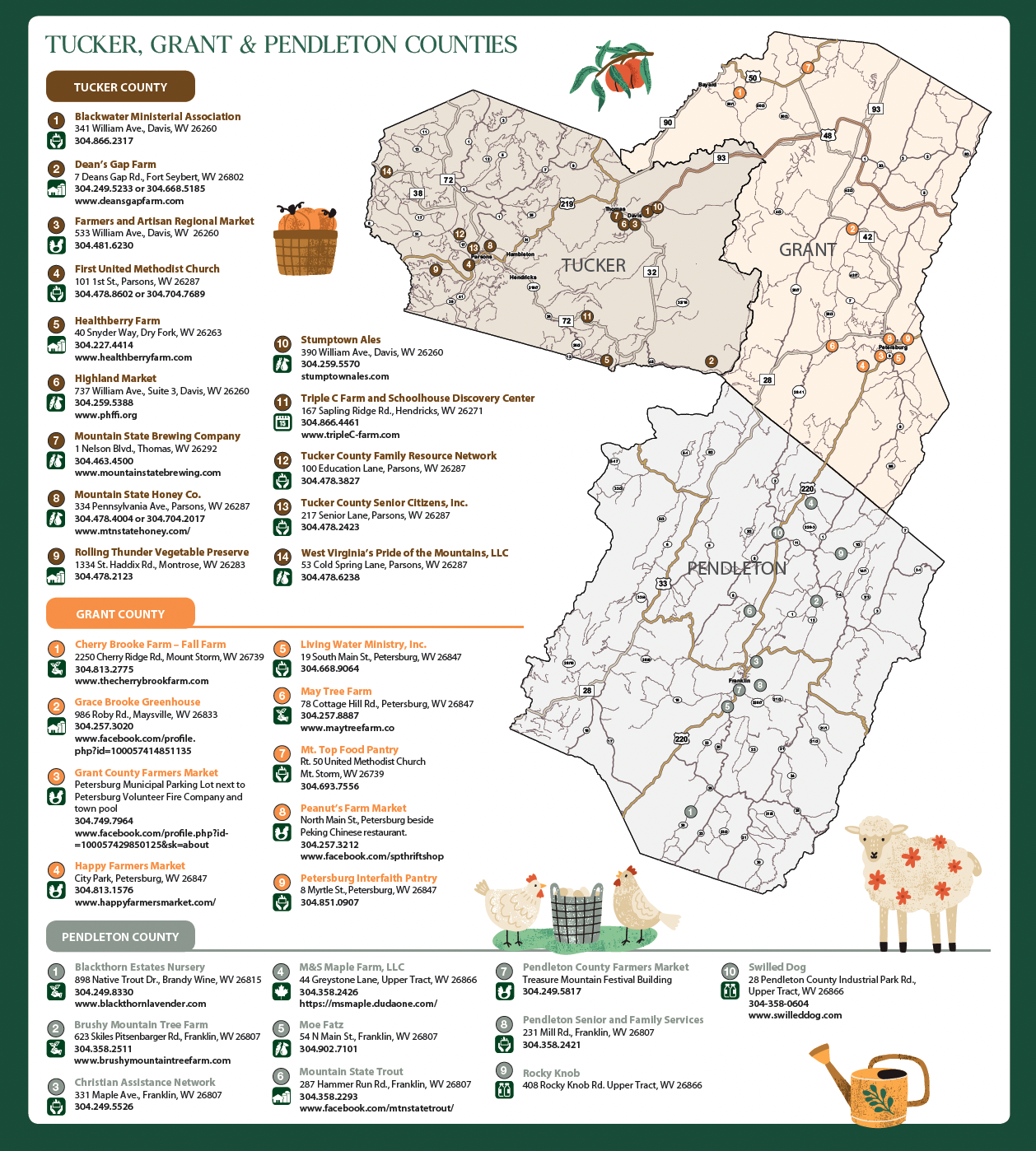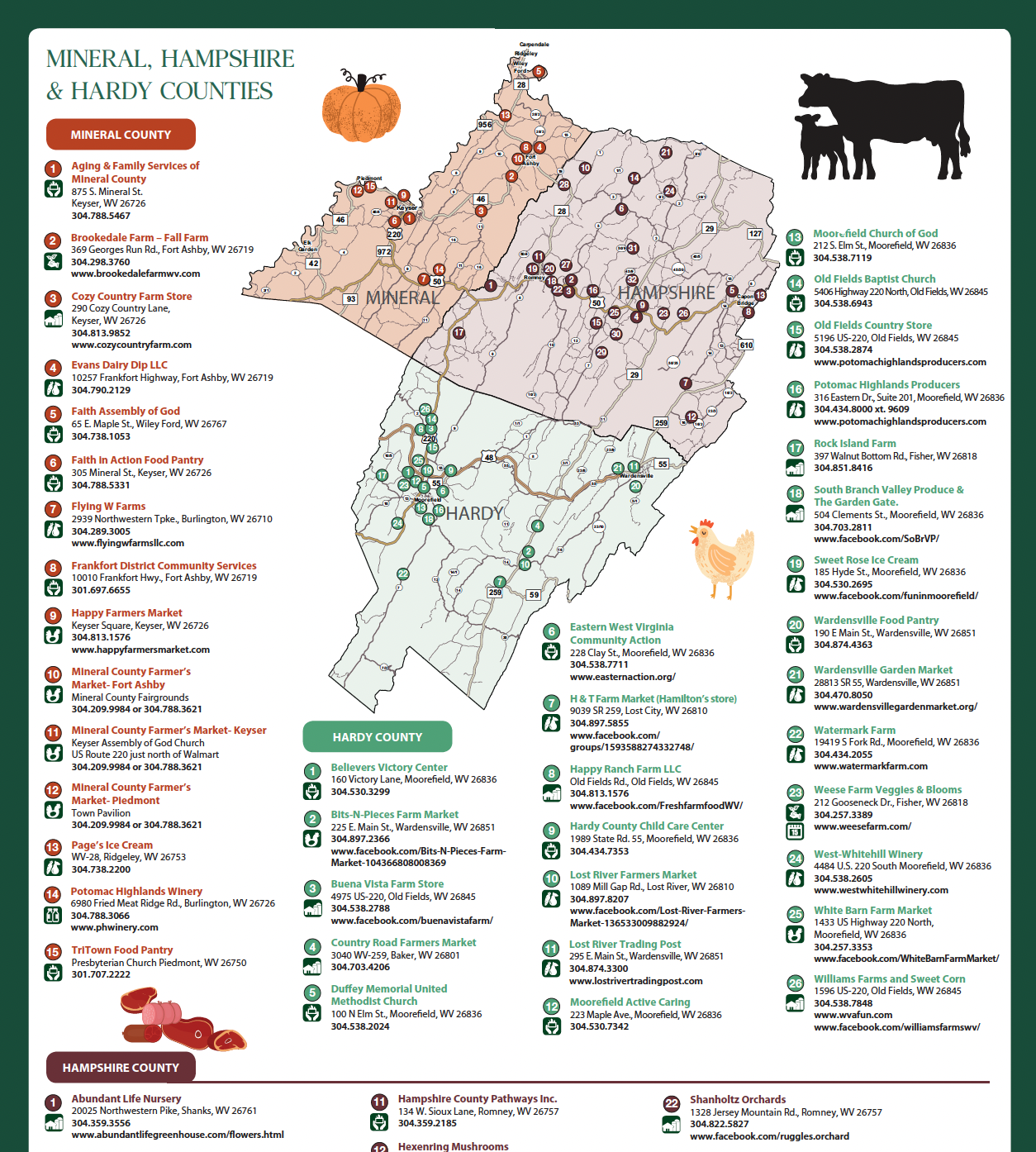 This annual survey is to help assess the outcomes of Highlands Creative Economy activities, to be used for grant reporting and program improvements.
Eastern identified the potential of using green technology solutions to turn waste products such as poultry litter and wood waste into energy while at the same time creating a value-added product – biochar. Eastern assembled a broad range of global experts from various backgrounds, including academics, researchers, federal and state agencies, private consultants, small businesses, national biochar, and waste organizations coupled with experts experienced in entrepreneurship and commercialization and the Eastern Biochar Group was formed. Since its humble beginnings, this group now operates a "grassroots" national effort to promote biochar.
This initiative is working closely with Eastern's Biological and Environmental Technology program creating trained and knowledgeable people who will ensure responsible economic development while protecting our water, air, and biological systems for our generation and future generations. Funding from the Regional Planning and Development Council has assisted Eastern in developing workshops, annual summits, meetings and more.
To learn more about Eastern's BioChar project, contact Trish Halterman at Patricia.Halterman@easternwv.edu or call 304-434-8000 ext. 9609.
Current Biochar project includes: