MOOREFIELD, W.Va. – Eastern West Virginia Community and Technical College is a partner in a state pilot project encouraging high school students to earn a year or more of college credit toward a bachelor's degree in education while still in high school, providing them with a pathway to finish college with an education degree in just three years.
Eastern is working with school systems in Grant, Hampshire, and Hardy counties as part of the Grow Your Own (GYO) project.
GYO was unveiled by the state Department of Education this past spring to address the growing shortage of classroom teachers across the state. The program builds on existing links between state community colleges and county school systems, where high school students historically have had options to take dual-credit, general education courses such as English, algebra, biology, etc. at reduced tuition rates and earn college credits.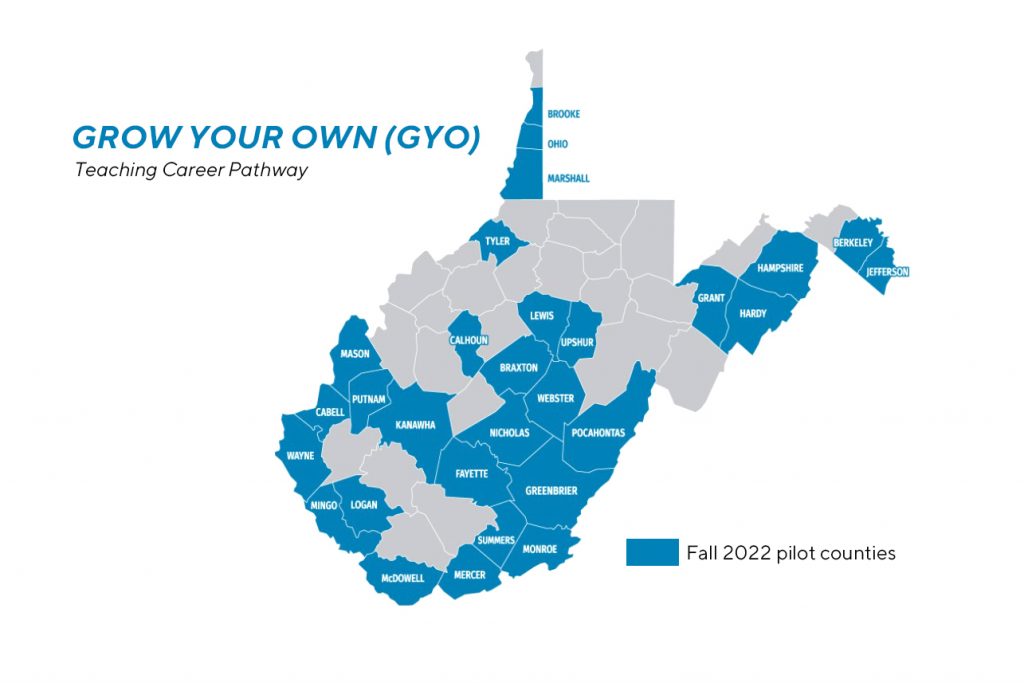 In counties participating in the GYO pilot project, students who sign up for GYO will take four required education courses that will be offered at no cost to the students. In Eastern's partner counties, the first of the required education courses, "Introduction to Education and the Classroom," will be taught this fall.
In addition to the four required education courses, GYO students will take a series of courses from existing dual-credit offerings. The general education dual-credit classes will use existing reduced tuition rates for high school students, providing a significant savings over regular tuition rates.
Depending on how many dual-credit classes students complete, they should earn 24 to 30 credit hours by the time they graduate from high school, putting them on track to enroll in a bachelor's degree program in education one year ahead of schedule.
The GYO program is offering additional benefits as well. High school GYO students will be given support for Praxis Core preparation and financial support to cover the cost of the test (passing scores on one or more Praxis exams are required for entry into most college education programs).
In the final year of a GYO student's bachelor's degree coursework, the student will be placed in a paid year-long residency with mentorship and support from the student's college/university and the county school system hosting the residency.
Sherry Michael, Eastern's education program coordinator, is enthusiastic about the program and the support it can provide students and school systems. "I think Grow Your Own is a very important program," she said. "School systems across the state are in dire need of teachers, and this offers a way to help fill that need, while also reducing students' costs for a year or more of coursework, plus the paid residency and mentorship program in the last year. I think this is a win-win for everyone."
Students in Grant, Hampshire or Hardy counties who are interested in the Grow Your Own program should contact Sherry Michael at sherry.michael@easternwv.edu.
Learn more about the GYO program pathway at https://teachwv.com/grow-your-own/