MOOREFIELD, W.Va. – The sun rose brightly and glinted off the windows at Eastern West Virginia Community and Technical College (Eastern) as the doors opened at 9 a.m. for the Oct. 7 Community Job Fair and dozens of employers and job seekers streamed into the building.
The job fair was a joint effort between the college's Career Services and Workforce Education departments and WorkForce West Virginia and the Region VII Workforce Development Board and was the first event of its kind held at the college since 2019. Reactions to the event were positive, said Shane Heimberger, business analyst with the Region VII Workforce Development Board, who said, one hour into the event, that foot traffic had been good so far.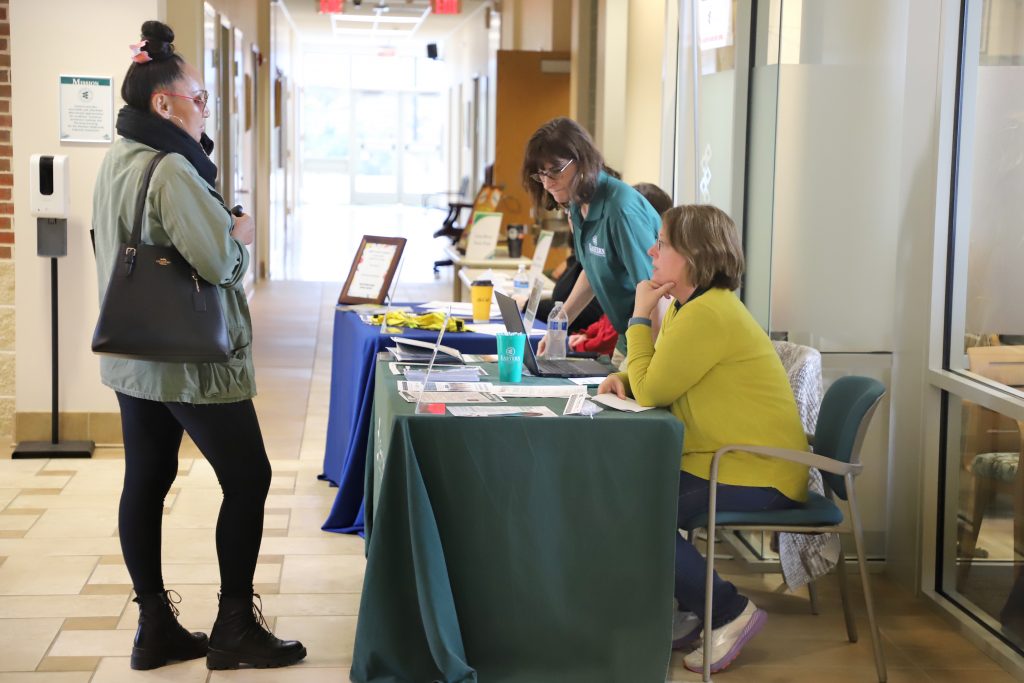 Students from East Hardy High School and the Mineral County Alternative Program were among the first wave of interested visitors. The students from Mineral County also did a tour of the college campus and listened to presentations on some of the college's educational and workforce training programs. In addition, they talked with some of the employers at the job fair. One student, Robert Tasker of Keyser, said he was interested in welding, and classmate Nathaniel Warner, also of Keyser, said he enjoyed talking with representatives of Petersburg Oil Company because he liked doing mechanical work.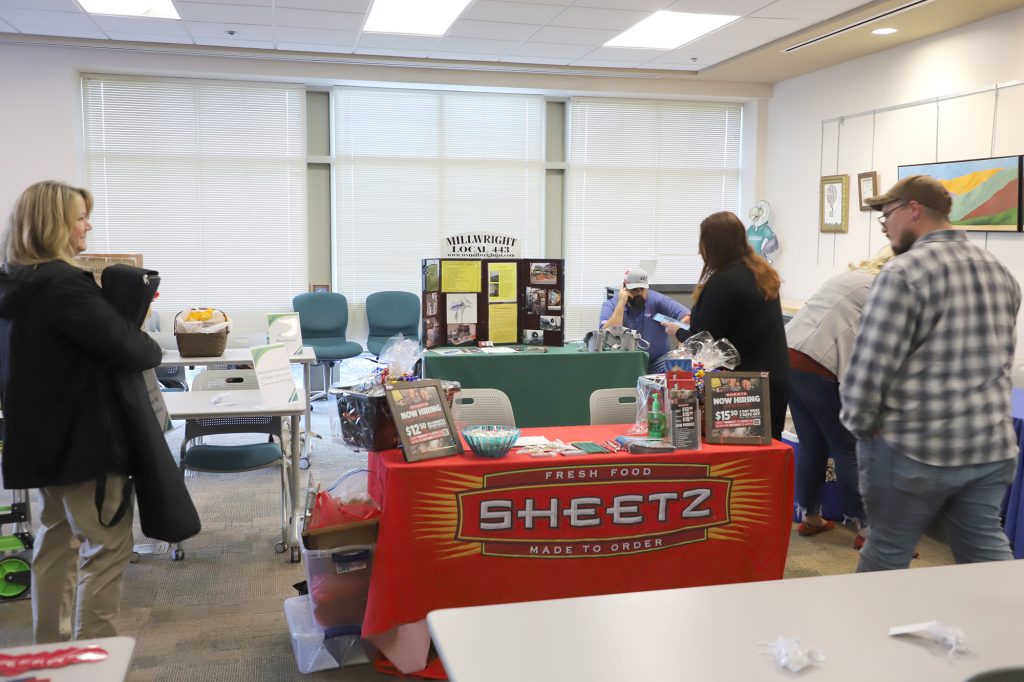 Jaime Bland, human resources generalist with Grant Memorial Hospital, said she wanted to engage with people at the event as there were openings available in nearly every department at the hospital. Colby Caldwell, superintendent at Lost River State Park, echoed Bland's sentiment, and noted that visitor traffic at the state park had doubled in recent years, and the park needed staff to cover the increased demand. In particular, he said, the park had openings for part-time workers in housekeeping and maintenance, jobs that were ideal for high school students or those looking for some additional income.
Shannon Champ and Jennifer Heishman from American Woodmark's South Branch Plant said most of their available positions were in the hourly manufacturing/production area, but that they also have openings in other departments. They also noted that Woodmark provides many opportunities for advancement internally, as both Champ and Heishman had started out as production employees before moving into other positions.
Employers and organizations who participated in the job fair were American Woodmark, Burlington United Methodist Family Services, Children's Home Society, E.A. Hawse Nursing & Rehabilitation Center, Eastern Allegheny Council for Human Services, Inc., Eastern Millwright Regional Council Local 443, Eastern West Virginia Community and Technical College, Eastern's Workforce Education Department, Farm Credit of the Virginias, Genesis HealthCare, Grant Memorial Hospital, Grant Rehabilitation & Care Center, Hardy County 911, Hardy County Schools, HomeBase Inc., Lost River State Park, Maryland Department of Public Safety and Correctional Services, MountainHeart Community Services Inc., Oakland Nursing and Rehabilitation Center, Peacock Manufacturing Company, Pendleton Community Bank, Pendleton Manor, Petersburg Oil Company, Pilgrim's Prepared Foods, JBS USA/Pilgrims's, ResCare Eastern Agency, Sheetz Inc., Summit Community Bank, Telamon, Valley Health System, West Virginia Army National Guard, West Virginia's Choice, West Virginia Laborers' Training Trust Fund, WorkForce West Virginia, Region VII Workforce Development Board, West Virginia Department of Health and Human Resources, and West Virginia Department of Veterans Assistance.
Dixie Heavener, Eastern's Title III project director and career counselor, said "It was a successful event, and I am happy with the turnout of both employers and job seekers.  Our community and region need employees, so this was a good opportunity for people who are looking for a job or seeking a career change to get face-to-face time with top employers.  It also allowed the public to speak to college administrators, faculty, and staff about the academic and workforce programs Eastern offers.  It was a one-stop shop."
Heavener also said another Community Job Fair is already in the works, set for Tuesday, April 11, 2023, at Eastern.