Thanks to the support of Eastern West Virginia Community and Technical College's Foundation and some generous donors, Eastern's literary and arts magazine, Eagle's Nest, is now available in print.
Copies of Eagle's Nest, Vol. VII, are free and can be picked up on Eastern's campus at 316 Eastern Drive, Moorefield, W.Va.
Joe McGee, assistant professor of English, serves as the faculty advisor for the Eastern Arts Society, a college group made up of Eastern students, staff, and faculty, that coordinates publication of Eagle's Nest. "I'm excited to help create a space that celebrates the arts and offers an opportunity for people to be heard, or seen, through creative expression," McGee said. "Art, in all of its forms, is so important. It connects us as a society. It connects us to the world around us. And, it connects us to ourselves. The Eagle's Nest is an important addition to the college as it gives students, faculty, and employees a place where they can share their creativity in an environment that is geared more towards technology and STEM pursuits."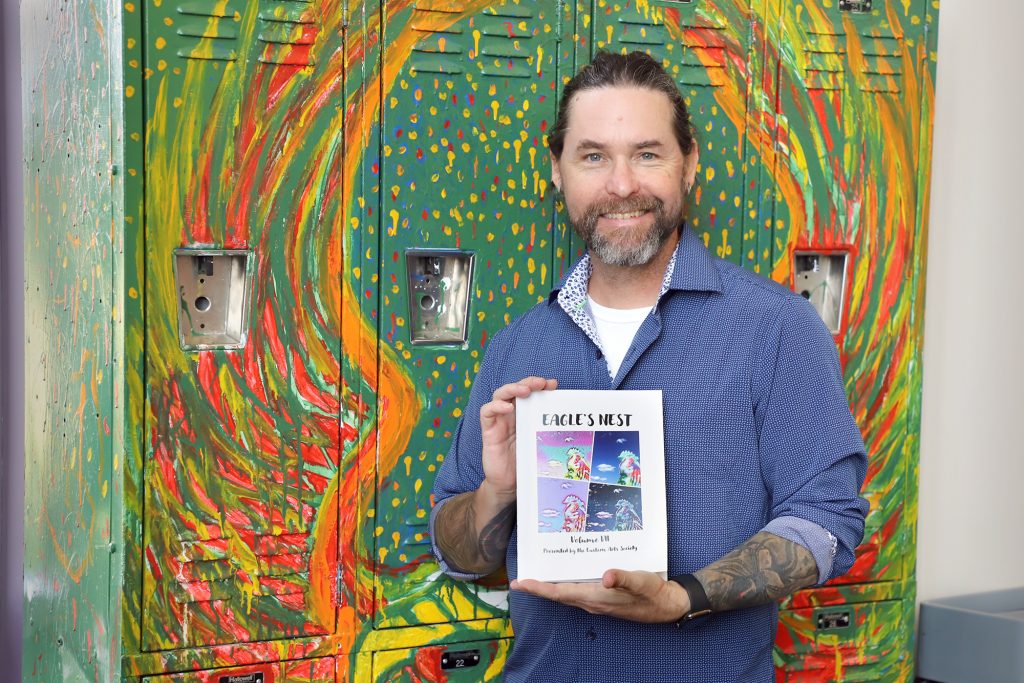 McGee is also an accomplished children's book author, so any book or magazine "birthday" is a very special day in his world.
This volume of Eagle's Nest has enjoyed two "birthdays," McGee said. The first happened in late June when the publication's digital version was unveiled and shared on the college's website. However, because of printing costs, it was unclear if the volume would be printed.
However, the timing of the magazine's digital release was a good fit with the college Foundation's Farm to Table event and fundraiser, which was held on June 29, less than a week after the digital version of the magazine was released, so the event helped generate some donations in support of Eagle's Nest. With those donations, plus some additional support from the Foundation, the publication went to the printer a few weeks later, leading to its second "birthday."
"Eastern's Foundation is a proud partner with the Eastern Arts Society, and it is great to see Eagle's Nest published," said Robert Burns, the Foundation's director. "We are always happy to work with Joe McGee, who leads the Arts Society, the members of the college community who contributed to the magazine, and the donors who support the work of the society."
Having a printed edition of Eagle's Nest available is important, McGee explained. "When someone shares their work," he said, "they make themselves vulnerable by offering up that piece of themselves. And so, when they can see their work in print, when they can physically hold a copy of the publication housing their work, and the work of others, that makes it all worth it."
"It's a proud moment when you see your work in print, and the Eagle's Nest offers that," McGee said.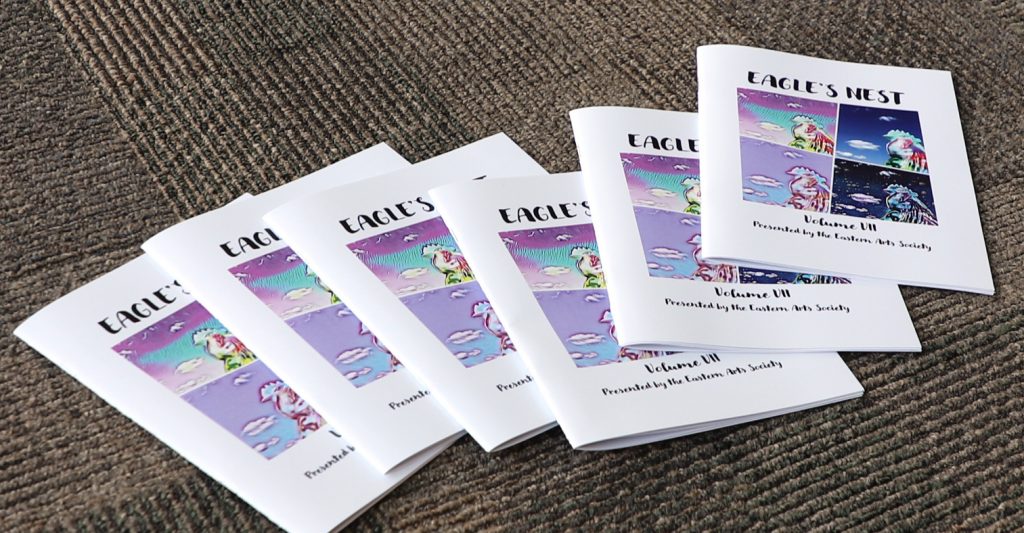 The first volume of Eagle's Nest debuted on On October 21, 2011. Digital copies of all seven volumes are available on Eastern's website at https://easternwv.edu/current-students/student-organizations-activities/arts-society/
For more information about the next volume of Eagle's Nest or about the Eastern Arts Society, contact Joe McGee at joe.mcgee@easternwv.edu