CANAAN VALLEY, W.Va. –  Hosted by the Appalachian Forest National Heritage Area (AFNHA) and Eastern West Virginia Community and Technical College, the Highlands Creative Economy Tourism Summit, held Aug. 24 at Canaan Valley Resort State Park, provided a forum for regional tourism leaders, entrepreneurs, and organizations to share ideas about tourism and economic development in the Potomac Highlands.
"The Highlands Creative Economy Tourism Summit was a great opportunity to learn from and network with tourism partners from all around our region," said Phyllis Baxter, executive director of AFNHA. "We were delighted with the participation and enthusiasm."
The forum featured sessions on tourism marketing, outdoor recreation and trail marketing, hospitality and lodging, heritage trails, state tourism resources, and tourism business development/entrepreneurship. Speakers at the sessions included marketing experts, leaders of non-profit and economic development organizations, higher education administrators and educators, hospitality executives, extension specialists, and city, state and federal officials.
Keynote speaker for the event was Dee Singh-Knights, Ph.D., associate professor in the Davis College of Agriculture, Natural Resources and Design at West Virginia University. Singh-Knights is also an extension specialist with the WVU Extension Service and an expert on agribusiness economics and management. Her presentation focused on strategies to develop sustainable tourism in a post-pandemic economy.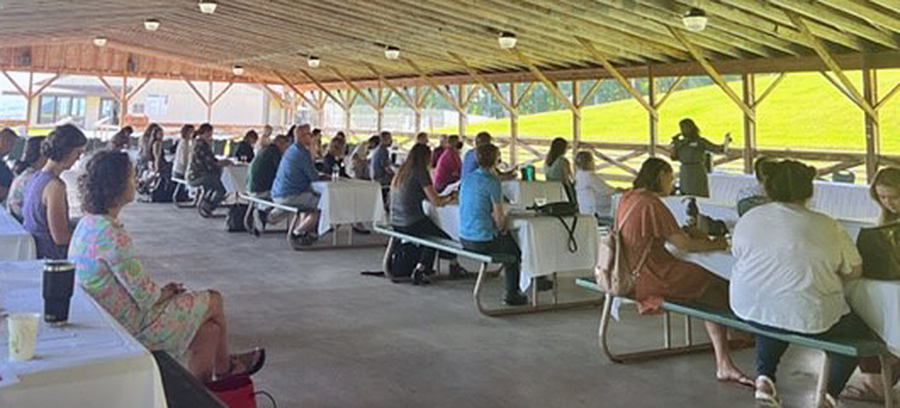 Debra Frank, a retired hospitality management program director of Allegany College of Maryland in Cumberland, Md., said she was "honored to participate as a panelist" at the summit. "It was great to meet so many new people who are all invested in the future of regional tourism," she said.
As an extension of the tourism summit, Frank will be teaching a series of free trainings – five sessions total – on hospitality and customer service, with the first two sessions set for Sept. 12 on Eastern's campus in Moorefield, and the second on Oct. 17 at Canaan Valley Resort State Park. Information about the free hospitality trainings can be found at https://easternwv.edu/workforce-education/hospitality/
"The summit was a great chance to meet with peers and to bring in new views and discussions on what is happening in the tourism industry in the Potomac Highlands," said Robert Burns, director of non-profits at Eastern. "Eastern continues to provide hospitality and tourism workforce training opportunities and creating additional interest and excitement for those trainings is always great to share."
About AFNHA
The Appalachian Forest National Heritage Area is an Elkins, W.Va.-based non-profit organization with a mission to celebrate the central Appalachian forest – its history, culture, natural resources, and forest heritage. AFNHA focuses its efforts on cultural heritage, conservation, and tourism to support rural community development in western Maryland and the highlands of West Virginia. To learn more, visit https://www.appalachianforestnha.org
About Eastern
Eastern West Virginia Community and Technical College, based in Moorefield, serves six counties in the Potomac Highlands of West Virginia and offers academic programs, workforce training, and partners with organizations to enhance economic development in the Potomac Highlands. Learn more about Eastern at https://easternwv.edu