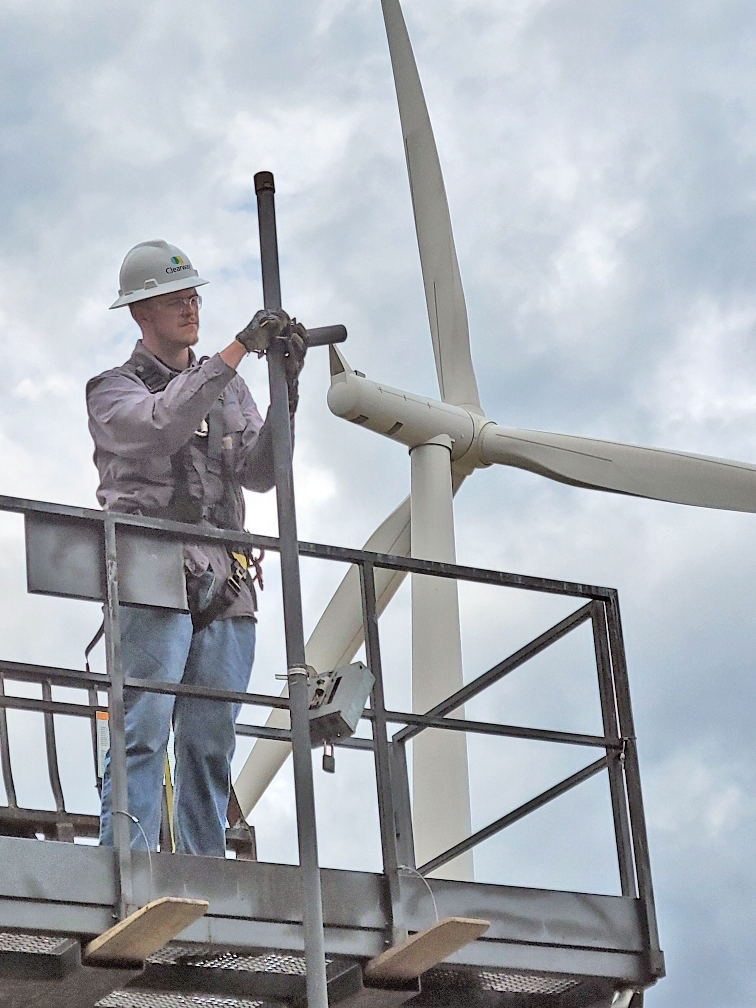 Name:
Isaiah B. Smith
Degree(s) earned from Eastern and from other schools:
Associate of Arts in General Studies (Eastern) – Spring 2020
Applied Associate of Science in Wind Energy Technology (Eastern) – Spring 2022
Are you still taking classes? If so, where and what degree are you working toward?
No, not since graduating from Eastern for the second time in Spring 2022.
Current Employer/Job (if applicable):
Employer: Clearway
Job: Wind Turbine Technician Intern at Black Rock & Pinnacle Wind Farms
What is something you learned (knowledge, training, skills) during your academic program that you utilize in your workplace and/or current studies?
My courses at the Tech Center [Eastern's Technology Training Center in Petersburg] gave me an early insight into what all went into wind turbines, such as all the pieces that make them function and also gave me some insight into the kinds of faults they can get and what causes them. More so than anything though, it brought the idea of working on wind turbines down to earth for me, which made me want to pursue this field even more.
Please share if courses, faculty, and/or staff at Eastern contributed to your career/educational success and how they helped:
Curtis Hakala is the first Eastern employee that comes to mind because ever since he awarded me an Eastern scholarship back when I was in my senior year of high school, we had been in touch and he's helped steer me right whenever I had questions or doubts about my academic career.
Monica Wilson is another faculty member that I spent a lot of time with, especially during my stint as the college ambassador when COVID first hit. She kept me motivated and was always helpful when I needed advice on whatever it was I was working on.
Eric Putze is the final person during my time at Eastern that helped me get to where I am now as he was the one teaching the classes at the Tech Center for the AAS in Wind Energy Technology degree that I was pursuing at the time. Eric pushed me to figure out hard questions on my own before I asked for any sort of assistance and while at first this was frustrating, in the end it helped to make me better at trying to make sense of how things in this field work since it isn't always easy troubleshooting these wind turbines.
What advice would you give to current Eastern students who are looking to follow a similar path to a job or continued studies?
Don't get discouraged is the best advice I can give to any Eastern student, but especially those taking the wind classes. I say this because some of the classes are very tedious and challenging, and I have spent plenty of nights staying late or coming in early just to get assignments or labs done on time. These classes also require varying levels of work outside of the classroom online, so it takes a time commitment both in and out of class to succeed.
Please feel free to share recent accomplishments and achievements in the workforce or in your continued studies:
I don't really have anything too relevant to add to this part, but I will say that if it wasn't for Eastern being able to offer courses such as the wind classes, I may have never had the opportunity to work for the Clearway team up here, and I think it is great that Eastern offers these courses as it is a great way to get your foot in the door in this field.
---
Are you an Eastern graduate? Have you completed an Ag workforce training program at Eastern? Are you a former Early Entrance student who transferred credits to another college or university? If you are, and you want to share your success story, we would love to hear from you! Email marketing@easternwv.edu today!