MOOREFIELD, W.Va. – Joe McGee, assistant professor of English and assessment facilitator at Eastern West Virginia Community and Technical College, will celebrate his latest "book birthday" on Oct. 25 for "Curse of the Crummy Mummy!" (Book #6 of "Junior Monster Scouts"), published by Aladdin Books, a children's-book imprint of Simon & Schuster.
The "Crummy Mummy" will be the latest, but not the only recent book birthday McGee has celebrated. On Sept. 6, Aladdin also released "The Squirrels Have Gone Nuts" (Book #4 of "Night Frights").
In the soon-to-be released book from the "Junior Monster Scouts" series, the main characters are hosting a summer exchange scout, a mummy, and the group must solve the riddles of the mummy's on-the-lam pet sphinx, who is ruining everyone's summer vacation at Castle Dracula.
In the recent "Night Frights" book, the setting and some of the background characters return from previous books, but a new child protagonist has to face off against a group of nefarious and nutty neighborhood squirrels. As always in the "Night Frights" series, Wolver Hollow is a strange town, the kids know what's going on, and all the adults are clueless.
McGee manages several book series and titles at present. In addition to "Junior Monster Scouts" and "Night Frights," "Creature Campers" is a chapter-book series published by Epic! Originals, an imprint of Andrews McMeel Publishing. McGee also wrote a series of three picture books, published by Abrams Books for Young Readers, starting with "Peanut Butter & Brains." In addition, he has contributed a short story to the "Creepy Cafetorium" collection, published by Epic! Originals.
McGee says that he knew from childhood that he would be an author. He regularly wrote stories in a spiral-bound notebook and would read them to his friends during lunch at school. His route to his dream job took time, as he spent several years serving as an airborne Army officer and platoon leader, but after he left the Army, he was able to teach English at community colleges and universities and continued to work on his writing craft. In addition to an MA in Writing from Rowan University, McGee holds an MFA in Writing for Children and Young Adults from the Vermont College of Fine Arts.
"You cannot write for children if you are unable to climb down from your adult tower and experience what things look like from their perspective."

Joe McGee, children's book author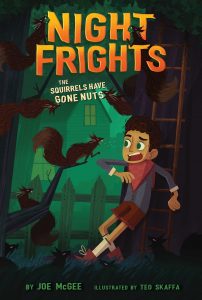 McGee found success writing children's books by remembering his 10-year-old self and what he found interesting and magical at that age. He still nurtures that knowledge by playing tabletop role playing games, which allow him to practice creating characters and plots. He also tries to see the world through a child's lens.
"You cannot write for children if you are unable to climb down from your adult tower and experience what things look like from their perspective," said McGee, adding that one of his favorite parts of being a children's author is being able to share his stories with kids at school visits and book events, like his recent Oct. 7 visit with third- through fifth-grade students at East Hardy Elementary School in Baker. The East Hardy school visit was supported by a local nonprofit, WordPlay Connects, that provided all the students with free copies of "The Squirrels Have Gone Nuts."
"Young readers are simply the best audience," McGee said. "They love stories, they love books. They get so excited to explore the world within the pages, and they still see magic in their everyday lives. Being able to give them that magic is the best part of my job."
At Eastern, McGee teaches composition, American literature, and creative writing, and is an advisor for the Eastern Arts Society, which publishes the college's art and literary magazine, "Eagle's Nest." He also teaches in the low-residency MFA program at the University of Nevada, Reno at Lake Tahoe.
McGee has a couple of book events planned at area bookstores this month:
Friday, Oct. 21, starting at 6:30 p.m. at Wordplay in Wardensville – "Junior Monster Scouts" and movie night.
Saturday, Oct. 29 from 2-4 p.m. at Winchester Book Gallery in Winchester, Va. – "The Curse of the Crummy Mummy." McGee also will be joined by Jess Rinker, author of "The Hike to Home," for this event.
To learn more about Joe McGee's work, visit https://www.joemcgeeauthor.com.