MOOREFIELD, W.Va. – Eddie Mullenax first climbed into a big rig as a small child and was entranced by the power of the machine.
The truck belonged to his uncle, who owned a trucking company, and the experience ended up shaping Mullenax's life. "It was the sound of the truck and how high I was sitting. It made an impression on me," Mullenax said.
Mullenax fell in love with trucks from that point on, and he spent many hours as an older child and teenager doing odd jobs in the trucking yard. He washed the trucks, did routine fluid changes, washed parts, learned basic repairs, fueled trucks, parked trucks and trailers, and as soon he was old enough, he climbed into the cab as an over-the-road driver in 1979.
"I always liked the idea that as a truck driver, I had this individual responsibility and power," he explained. "I had a load to deliver, and it was up to me to get that job done on time and safely."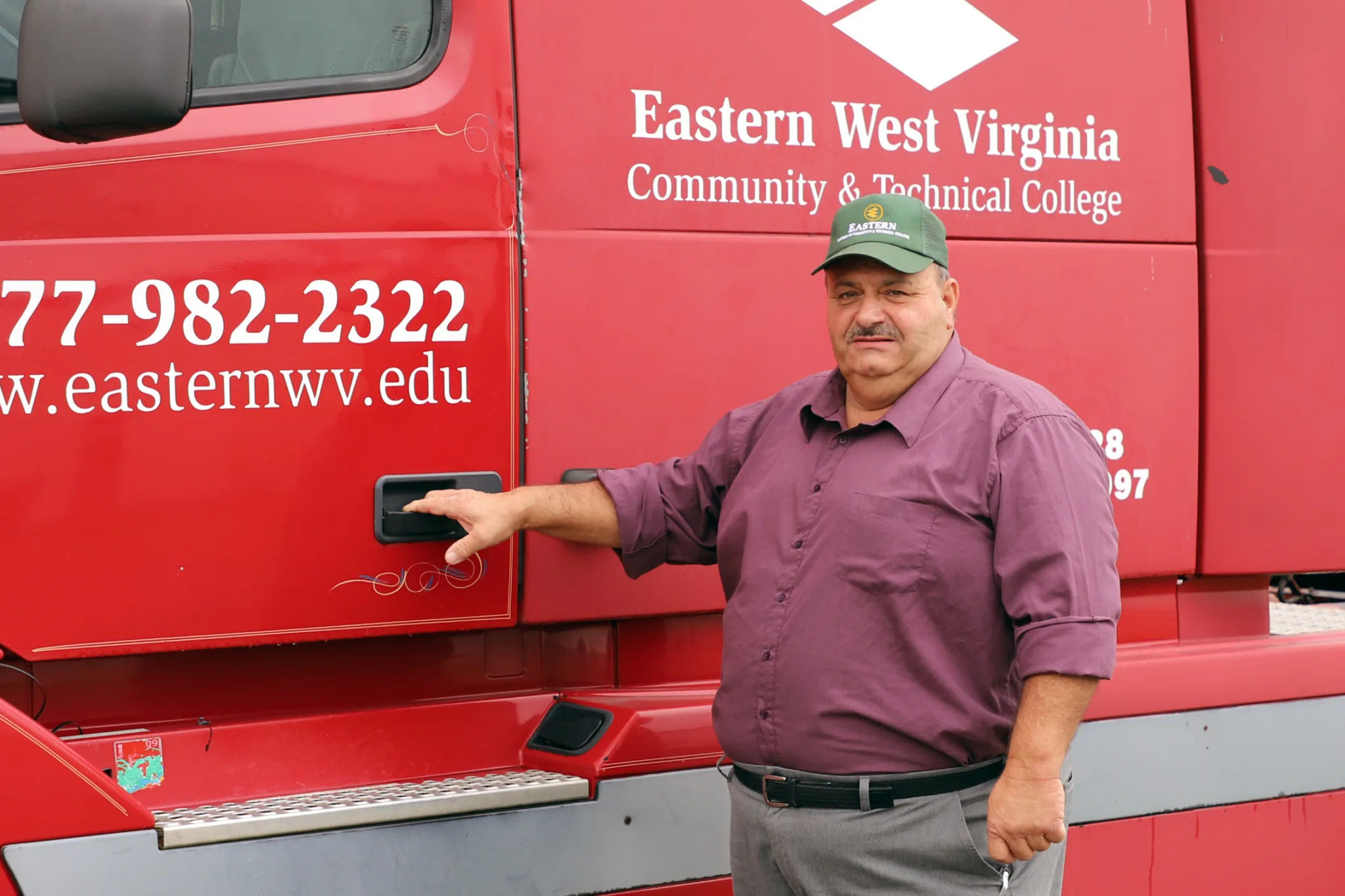 Mullenax's time as a driver would eventually cover more than 4 million miles, he estimates, as he traveled across the country repeatedly. His career would span employment with several trucking companies, taking him far from his native Petersburg.
But despite the miles traveled, and the many states visited (45 at last count), Mullenax always came home to Petersburg, especially after his marriage to Tracey Smith, his wife of 33 years, and the birth of his three children, James, Justin, and Janell, followed by grandchildren Jonah, Jana, and Jace.
With his new position as Eastern's Commercial Driver's License (CDL) instructor, Mullenax believes this job might be the perfect way to balance his love for driving and his love of his home and family, while helping others who might feel the same pull to drive large trucks and see the country.
Driving a tractor trailer is not an easy task, and some loads are more difficult than others, he explained. For many years Mullenax hauled livestock, including hogs, cattle and one memorable trip hauling sheep from California. As is the case with all loads, the load must be carefully balanced, so the animals would have to be organized by weight in groups and loaded into specific areas of the trailer, with partitions dividing the groups. To protect the animals, trips also had to be completed as quickly as possible.
Mullenax said he also spent many years hauling goods in refrigerated trucks, and that often would take him into urban areas, where tight corners and parked cars posed different kinds of challenges.
Drivers need quality training, he said, to help them adapt to different driving conditions. Over the years that he drove, he saw steady growth in traffic on interstate highways, and that changed how he had to drive, and the types of things he had to watch for. "That's what CDL training is about," he said. "It's about keeping a driver and the truck in compliance with regulations and keeping safety top of mind. At the end of the day, the job is going to get done, and we need to do it in as safe a manner as we can."
Driving gave Mullenax the opportunity to see the country in ways that he would have missed in other jobs, he said. "I spent a lot of time on I-81, I-95, I-40, I-10. I made a lot of trips to Texas, and to the Midwest. I've traveled into New York City, Chicago, and just about every other major city. Every trip has its own challenges and excitement, and I learned from all of it."
Mullenax said he is looking forward to sharing his many years of experience with students in Eastern's CDL training program, which is designed to meet all federal training requirements. "It will be a bit of a learning experience for me, too," he said, because I know how to do all these of things, don't even have to think about them, but I've got to go back and remember how I learned it, and then share that with my students in the way that I once heard it or saw it done."
Eastern's CDL program will start classes again in September. To learn more about the program, contact Eastern's Workforce Education Department at WorkforceEd@easternwv.edu, or visit the CDL information page at https://easternwv.edu/workforce-education/cdl-training/